The governance token of MakerDAO, MKR, topped gains last week, trackers on Mar. 5 show.
MakerDAO leads weekly gains
MKR roared roughly 27% in seven days ending Mar. 5, pushing its market cap to over $942m. At this level, MKR outperforms the broader crypto market, including bitcoin (BTC) and ethereum (ETH).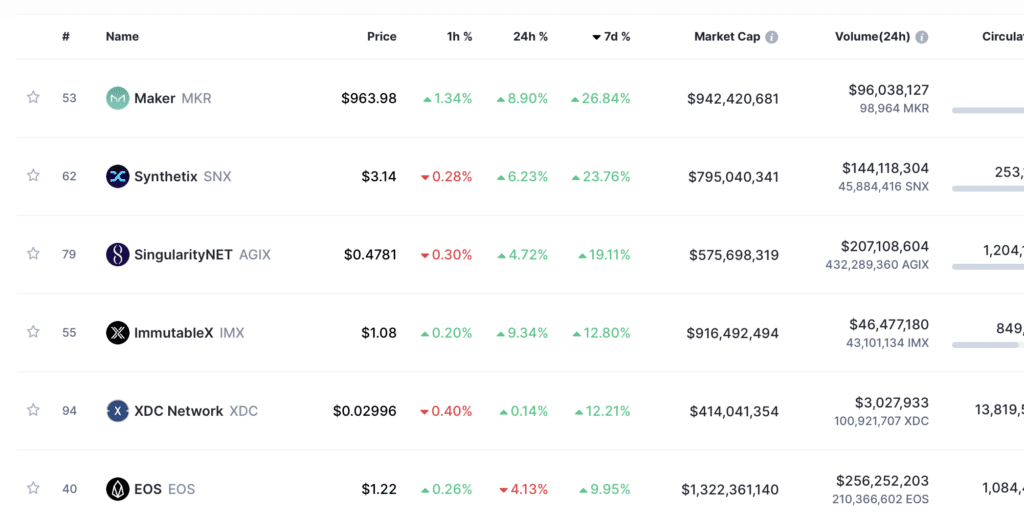 As an illustration, BTC and ETH are down 4.5% and 3.5%, respectively, in the past week of trading.
As of writing, MKR is changing hands at $963, up about 9 percent in the past 24 hours and stable in the last hour.
There are several factors behind the MKR surge. Among them is news that the protocol might soon allow users to borrow DAI, their algorithmic stablecoin tracking the USD, using MKR.
MakerDAO also reduced fees to as low as 0.5% on its staking product that's anchored on Rocket Pool ETH (rETH). The 0.5% annual fee is one of the lowest among competitors.
Besides the fee change, the protocol also increased its debt ceiling from 5m to 10m DAI. Relaxing the debt ceiling means the liquidation ratio for the rETH vault is more attractive, a net positive for MKR.
MakerDAO is a decentralized money market and one of the first DeFi platforms. It allows token holders to lend out assets in return for a yield. Meanwhile, borrowers can take loans by depositing collateral. The protocol remains one of the largest DeFi solutions.
As of Mar. 5, DeFiLlama shows that it had a total value locked (TVL) of $7.02b, down two percent in the last week.

Even so, it remains the second largest DeFi protocol by TVL only after Lido Finance, a decentralized liquidity provider allowing users to stake on, among other proof of stake blockchains, Ethereum.
Synthetix among other top performers
Besides MakerDAO, Synthetix's native token, SNX, comes in second, adding 23%.
After a successful security audit, the decentralized derivatives DEX recently deployed their v3 on the Ethereum mainnet. Synthetix v3 on Ethereum is more efficient and allows developers to create even more complex derivatives.
Meanwhile, SingularityNet coin, AGIX; ImmutableX, IMX; and the XDC Network, XDC, posted double-digit gains, capping the top five by adding 19%, 12.8%, and 12.2%, respectively.