Klaytn Foundation is launching a new governance system and tokenomics model designed to foster transparency and increase community involvement in the open block validation and decision-making processes.
As part of plans to further decentralize its platform and make it possible for the masses to participate in its decision-making processes and more, the Klatyn Foundation, the team dedicated to building the Klatyn blockchain, is introducing a revamped governance model and tokenomics structure.
Per a press release, the Klaytn Governance Council (GC) is collaborating with the Foundation to transition the metaverse-enabled blockchain to a permissionless validator system that will allow the average joe to participate in block validation, while also encouraging dapp builders to adopt Klatyn.
Moreover, the team plans to release an improved tokenomics proposal for the GC to vote on starting Feb. 22 through Feb. 28. The team will also release a new roadmap on Feb. 27, detailing its essential governance structure, tech initiatives, and more, going forward.
To promote transparency, the Foundation will display all GC on-chain voting statuses and agendas in real time on the Klaytn Square governance portal. The Foundation will also expand its capabilities by taking over all Foundation-related operations from Krust Universe, the creator of Klaytn and parent firm of Ground X, from March 1, 2023.
Commenting on the latest development, Dr. Sangmin Seo, Representative Director of the Klaytn Foundation said:
"The new initiatives give the Klaytn blockchain an opportunity to take yet another step towards decentralization. The Foundation is committed to advancing blockchain technology, fostering community trust, and relentlessly working towards decentralization."
KLAY token price rises
The latest news positively affects the $KLAY token price, with the digital asset posting decent gains in the last 24 hours.
At the time of filing this report, the price of $KLAY is hovering around $0.349594, representing a 1.4% increase in the 24-hour timeframe. However, looking at the larger picture, $KLAY is up by nearly 80% in the past seven days, according to Coingecko.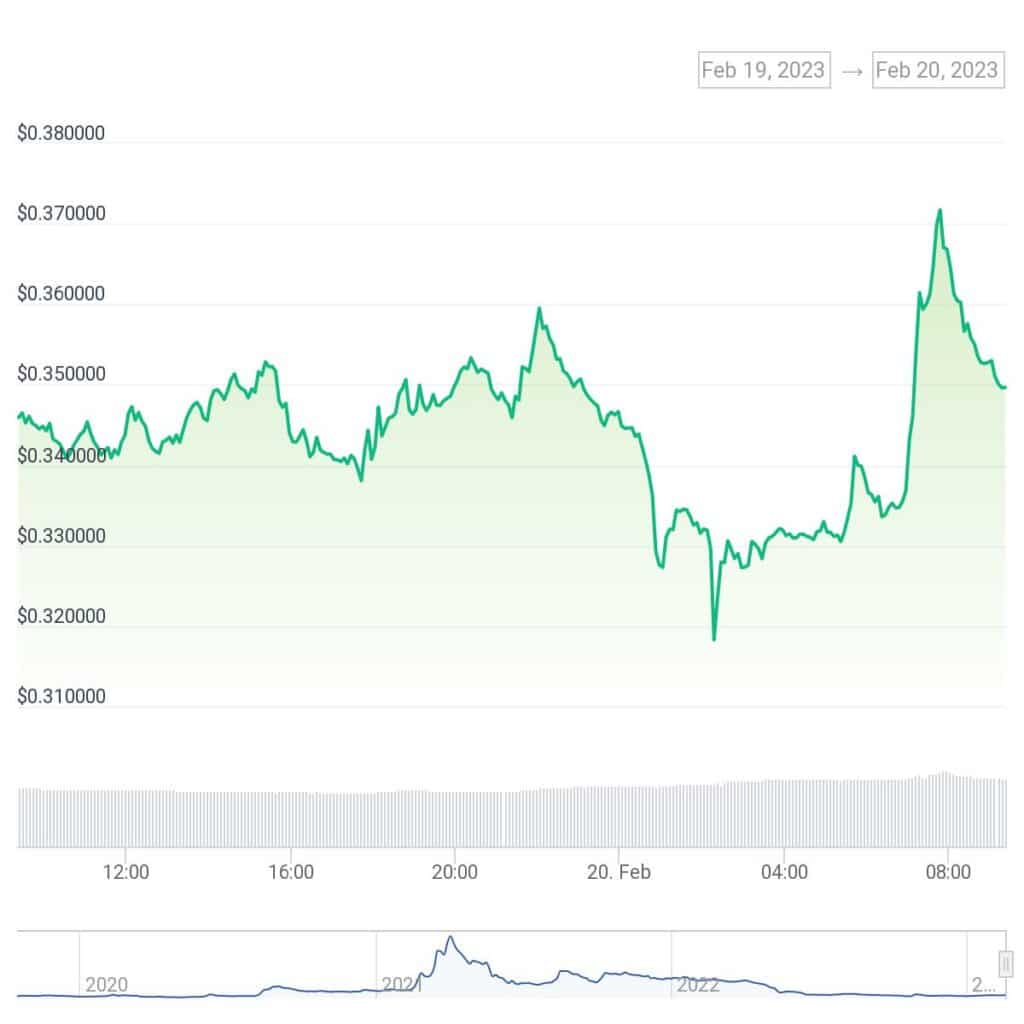 In related Klaytn news, last September the project introduced a new solution designed to help gaming platforms significantly slash gas fees. In October 2022, Klaytn joined forces with Zetachain for a multi-chain interoperability initiative.